Ipsos Reid study shows internet access
in Canada has reached an all-time high
More than eight in ten Canadians now have internet access at home
A new Ipsos Reid study has found that more than eight in ten Canadians now have internet access at home. That's an increase of six per cent from Q2, 2008 and a four per cent increase from Q4, 2008. "Even in difficult economic times, Canadians understand that having internet access in essential in today's society," says Mark Laver, author of the study that examines online trends and activities...

Read More
Be where customers
hangout online
Social networks key for online retailers
Forward-thinking retailers want to bring their web stores to the environments where their customers like to spend time. That's why almost three-quarters of the merchants in the Internet Retailer Top 500 Guide have a presence...

Read More
New Volvo up for grabs in interactive contest
Volvo, Twilight team up for online giveaway
Know what Edward Cullen drives? Volvo is putting a challenge out to all Twilight fans by launching a new online promotion in conjunction with the release of Summit Entertainment's The Twilight Saga: New Moon. Fans can visit the site ...

Read More
Honda revs up campaign with mobile ads

MSN Mobile used to promote new hybrid

With the Canadian launch of the Honda Insight, the auto maker and their strategic media agency, PHD Canada knew the best way to promote the new hybrid was to put the brand directly into the right demographics' hands. The demographic, in this case, was adults—skewing male—between 25 and 49 with a household income of more than $50,000. To get the message to this audience, a brand awareness campaign for the Honda Insight launched on digital and ...

Read More
Web-based app generates, tracks sales leads

95% of readers abandon web forms

Vitrium Systems, a leading PDF-technology vendor, today announced the launch of PDFSalesLeads, a web-based application that allows organizations to easily generate valuable sales leads from their PDF content. Today, organizations that use PDF content frequently require readers to fill out web forms before they are granted access to the material.
However, up to 95 percent of readers abandon web forms when required to complete them before they can view the relevant
...

Read More
henderson bas cleans up at W3 awards
Toronto agency logs seven wins
henderson bas, Canada's most awarded interactive agency, today announced it has received 7 awards at the W3 Awards, sanctioned and judged by the "who's who" of the advertising world. The International Academy of Visual Arts...

Read More
---------------------------------------------
Click! Weekly--Award Winner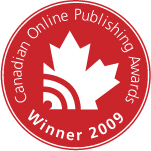 Find out more about Click! Weekly's online publishing award winning content.