Delvinia digs into the reality of mobile
in Canada with new report
Canadians lack smartphone savvy according to Delvinia Dig
The number of Canadians purchasing smartphones may be rising, but an overwhelming number of Canadians continue to use their mobile devices for the most basic functions – texting and taking pictures, according to Delvinia Dig, a quarterly report on the digital behaviours and attitudes of Canadian consumers...

Read More
Paid Tweets will show first in Twitter results

Advertisers can buy thier way to the top

Twitter announced Tuesday that it is introducing advertising by allowing companies to pay to have their messages show up first in
...

Read More
Attention beauty junkies: this new site is for you
ChickAdvisor launches social shopping deals
ChickAdvisor.com, Canada's premier women's online community, unveils its new social shopping platform today. Shop ChickAdvisor will give members...

Read More
Canadians have great taste in food and websites

Uptrend to represent Gourmet Ads
UPTREND media, Canada's leading online advertising representation company, announces its exclusive partnership with Gourmet Ads the leading food advertising network. This agreement links two top advertising companies and provides UPTREND media the rights to exclusively represent Gourmet Ads in Canada.The Gourmet Ads network consists of hundreds...

Read More
Site boosts sales of Canadian small businesses
smallcanada.com offers free marketplace
Small businesses in Canada have received a big boost with the launch of www.smallcanada.com, an online marketplace that allows small-to-medium enterprises (SMEs) to market their products and services at zero costs, and source new sales leads in and around Canada. SmallCanada.com offers distinct advantages for small businesses: Small businesses - or Small Canadians - can create their business profile and...

Read More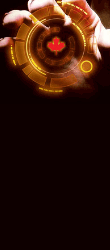 Click! Weekly voted
Best E-Newsletter