Getting social on the web may be
key to online business success
Social media marketing is playing an increasingly important role
in how business is being conducted online
By Amy Bostock, Editor
Do you tweet? Is blogging part of your daily routine? Are you LinkedIn or residing in MySpace? Do you like to Digg? If you answered yes to any of these questions then you are part of an overwhelming percentage of Canadians who have adopted social media for business and personal use. A report just released by independent research company Forrester Research Inc. found that although 75 per

Read More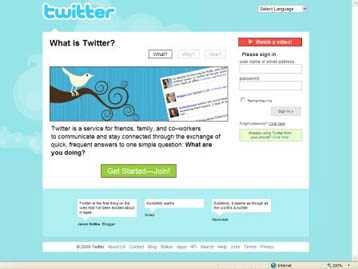 Can sites like Twitter really help your business?
Websites still
top priority for businesess

Survey shows budgets still holding firm

A recent survey of Forrester's Customer Experience Peer Research Panel shows that while most firms will keep spending flat, many still plan to grow spending in key budget categories like web design...


Read More
MySpace expands advertiser relationships
Merger aims to leverage company's offerings
MySpace Canada has announced an alliance with Olive Media, a Canadian full-service online media solutions company.
The agreement is intended to broaden MySpace Canada's distribution channels by...


Read More
.tel domains now affordable for businesses
"Wireless web" opens up internet publishing
Telnic Limited, the registry operator of the new .tel top level domain, has announced the general availability of domains for all businesses. Large and small businesses can now register and begin using their own .tel domain, opening up new communication channels with customers and making them more accessible online. With .tel domains, small businesses and owner-managers around the world can now get their own domain name without the need to build,

Read More
Skype's new offerings target business users
Cite increased calling power without upgrades Skype has announced a new version of its internet calling software that connects to corporate phone systems. The Skype for SIP Beta program will enable even more business conversations by allowing the communications from a company's traditional phone system to flow through Skype. With Skype for SIP Beta you simply make and receive calls with Skype using the SIP (session initiation protocol) protocol that many phone systems support natively. No more boxes in the middle, no more points of failure,

Read More
Insights Part 1:
Understanding Social Networking
Top sites, terms every manager should know
If you are doing business online in today's competitive climate you need to be "in the know" when it comes to the latest technology. From hardware and networking to executing transactions in cyberspace, the following glossary of terms, courtesy of O'Reilly Media, will help you develop the vocabulary to make smart technology decisions and purchases, communicate more effectively with IT staff and better serve your clients.

Read More