March 31, 2009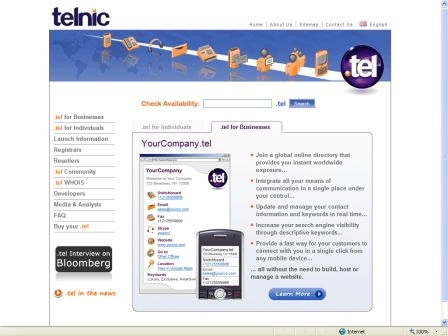 .tel now affordable for businesses of all sizes
"Wireless web" opens up internet publishing to everyone
Telnic Limited, the registry operator of the new .tel top level domain, has announced the general availability of domains for all businesses. Large and small businesses can now register and begin using their own .tel domain, opening up new communication channels with customers and making them more accessible online.
With .tel domains, small businesses and owner-managers around the world can now get their own domain name without the need to build, maintain and host a full website. Dubbed the 'webless web', .tel dom ains are set to open up internet publishing to everyone, regardless of budget or technical expertise.
"Small businesses have been caught between a rock and a hard place when it comes to getting benefit from the Internet," said Khashayar Mahdavi, CEO of Telnic. "Until now, they either needed the skills in-house to develop and maintain a website, or pay for others to do the same, all without knowing whether or not it was of interest to their customers. Now, with .tel, small businesses get a presence online, akin to a listing in a directory service, but under their own brand and their complete control, at a fraction of the cost of a listing in a traditional directory service."
According to Mahdavi, the launch of .tel represents the most significant innovation for the internet since .com.
"With prices ranging from $14 to $35 a year, .tel domains represent incredible value for money to companies of all sizes, especially given the increased discoverability a .tel provides them through search engine optimisation."
The one-off cost for a .tel domain includes everything a small business needs to get up and running and discoverable online from any device connected to the internet. In addition to storing contact information, location-based information and an unlimited number of key words to help increase discovery in search engines like Google, small businesses can use it to manage their costs by using low-cost communications channels such as Instant Messaging tools, micro-blogging platforms or even Voice over IP (VoIP) services.
Tens of thousands of businesses worldwide have already registered their .tel domains and MySpace just announced that they would begin selling .tel domains to customers.