September 8 , 2009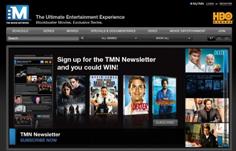 Now playing: The Movie Network offers visitors unique engagement opportunities

Site r edesign boasts strong acquisition and retention features
Astral Media's The Movie Network has launched a newly, redesigned website, www.themovienetwork.ca, giving visitors a one-stop resource for The Movie Network and its multiplex channels such as HBO Canada; the classic movie service, Mpix; and the pay-TV network's high definition channels and On Demand offerings.
Showcasing everything the premium entertainment service has to offer and mirroring the network's bold and sleek cinematic on-air look, the new easy-to-navigate website provides both subscribers and potential subscribers with unique opportunities to engage with the brand and sample all of the service's offerings including exclusive series and Hollywood blockbusters. Key features include comprehensive programming and schedule information, an expanded and embeddable video player, enhanced user features such as SMS and email reminders through a new subscriber only platform, social media share links, a weekly newsletter and contests.
In addition to newly designed series minisites, a robust and vibrant movie section provides in-depth film information and indicates recent audience favourites, new and upcoming films and also provides movie recommendations.
Also, new to the site is a dedicated acquisition section (jointmn.ca) that clearly communicates the value of a subscription to The Movie Network and lets consumers get a taste of what the service has to offer.
"The objective for the new website is to evolve themovienetwork.ca into a beachhead that attracts and engages existing and potential subscribers. Our goal is to provide everything consumers need to know about The Movie Network and its affiliated channels and services through an interesting and user-friendly format that provides the best insider information and enables consumers to sample the compelling experience offered by The Movie Network," says Gail Rivett, Vice President, Consumer Marketing, Astral Television Networks. "Our research has shown that subscribers like to plan their viewing schedules in advance, so by adding valuable, personalized tools to the site and giving consumers up-to-date movie reviews and abundant series information, themovienetwork.ca is the best subscriber resource for those looking to plan their entertainment experience."
At the centre of the revamped site is a new feature, MyTMN, which enables visitors to create their very own customized entertainment experience featuring their favourite programming from The Movie Network. This new platform is aimed at providing current subscribers and potential viewers with a number of ways to personalize their viewing schedule including timely SMS and email reminders and a new weekly newsletter that will deliver relevant and targeted content to subscribers. The newsletter will include special features such as Weekend Can't Miss Programming, a list of upcoming OnDemand programming, behind-the-scenes information on the movies and series, and exclusive contests with prizing such as DVDs, personal superfan at-home parties and special advance screenings.
Other features of the new site include:
Master Scheduling Grid: To give subscribers one easy-to-use, dedicated destination for programming information for The Movie Network and its stable of channels, an upgraded and comprehensive scheduling tool is now also available. The interactive grid gives subscribers the opportunity to click directly on each program for more information and add their favourites to their MyTMN personalized viewing list.
Enhanced Video Portal: themovienetwork.ca now also features an extended and enhanced video portal where visitors to the site can see exclusive sneak peeks, trailers and clips from their favourite movies and series. The video portal contains fully embeddable clips allowing visitors to share, bookmark and re-post videos directly to sites such as Facebook, Twitter, Del.icio.us. and Digg.
Advanced Search Engine: This new feature will make it easier for visitors to the site to find out what's new, coming soon or last-chance programming offerings.
New Easy To Navigate Layout: The new layout of the site will make it easier for visitors to find exactly what they're looking for, including programming by genre and schedule information, video content, celebrity interviews and movie reviews, or information on how to subscribe to The Movie Network. All of this information is now listed under the following separate categories: Schedule, Series, Movies, Specials & Documentaries, Video, Movie Entertainment and Join.
Movie Entertainment Section: Consumers can get the latest movie and television news through a special Movie Entertainment section featuring content from the monthly magazine and regular on-air segments of the same name. Entertainment lovers can find video and podcast celebrity interviews, movie and television articles and the inside scoop on The Movie Network's movies and series as well the latest in theatrical releases from Movie Entertainment hosts Teri Hart and Steve Gow.
The new site was created by The Movie Network's in-house Interactive team headed by Barbara Bailie, Director, Interactive, Astral Television Networks, in conjunction with Grand Creative. The launch will be communicated to subscribers and consumers through 30-second on-air spots, affiliate vehicles, print advertisements in Movie Entertainment magazine, a launch contest and online banner ads.