September 29 , 2009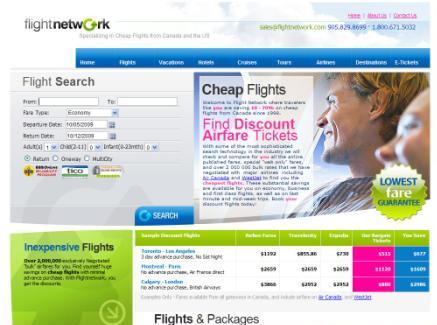 FlightNetwork.com uses web to beat recession

Company spends while others cut back
FlightNetwork.com, one of Canada's highest volume online travel sales sites (second only to Expedia in Canada), today announced that their recent engagement of website optimisation, marketing and public relations services has led to a record month (May, 2009) showing a 120 per cent growth over the previous year.
"We chose to launch our external marketing and web optimisation programs while many competitors were forced to rein their budgets in," said Naman Budhdeo, Founder, President and CEO of FlightNetwork.com. "The recession has offered us an opportunity to reach out with advertising and other external programs at truly competitive prices."
FlightNetwork.com's tactical investment began by engaging Markham-based DataWorks to conduct Internet marketing in the form of SEO, pay per click advertising on Google, Yahoo and Microsoft sites and oversee an ongoing series of weekly travel specials to be emailed out to FlightNetwork's customer database. DataWorks is also responsible for leading affiliate programs, and analytics for the FlightNetwork.com site.
FlightNetwork.com has named Toronto-based Phil Falcone & Colletto-Blu Integrated Agency of Record, spearheading the 'big picture' duties required to tie all marketing and communications efforts online and offline both externally and internally.
The company has developed a short and long-term strategic plan that to-date includes: brand positioning and messaging; online creative campaigns with AOL, Yahoo!, MSN, Google, and Facebook; radio media buying, production and promotions with Z103.5FM, ProudFM, The Jewel, JazzFM, and AM740; a newspaper campaign with Metro News; a magazine print campaign and contest with Chill; and a TV promotion with the Food Network's Top Chef: Las Vegas.
Over the next 12-months, Phil Falcone & Colletto Blu are working on a complete redesign of a new Canadian and American website, as well as launching an innovative strategic partnership program.
To round out FlightNetwork.com's communications team, Pointman Public Relations of Toronto was engaged as PR Agency of Record. Pointman PR will implement a multi-faceted media relations strategy focussing on developing media relationships with top tier Canadian outlets and increasing awareness of the FlightNetwork.com brand with consumers. Additional PR support will include identifying and securing awards/speaking opportunities, creating topical promotions/media pitches and overall media communications.