September 1 , 2009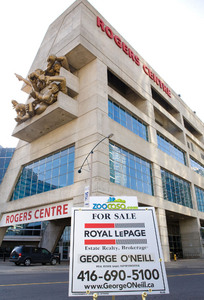 Zoocasa.com puts Rogers Centre on the market
Site makes unconventional debut
Zoocasa.com, a new web site that's changing theway Canadians search for homes, made its national debut last week with an unconventional launch that included a 'featured listing' for one of the most recognized properties in Canada - the Rogers Centre. The listing includes a virtual tour that can be viewed at www.zoocasa.com to call attention to the new site.
"Zoocasa is different - it's a unique real estate search experience, and this calls for a unique launch," says Saul Colt, Zoocasa's Head of Magic. "Online real estate listings are a key element of Zoocasa.com, so it makes sense to kick off our national launch with a listing that would capture the attention of Canadians."
Zoocasa makes it easier to navigate online real estate listings in Canada, with tools that make searching more intuitive and relevant, and allow buyers and sellers to connect faster than ever.
"There are lots of sites that let you see listings, but Zoocasa.com lets you find the home you want by searching for what is important to you - things like neighbourhoods or schools," says Colt.
A Rogers funded technology start-up, Zoocasa.com works in the same way as internet search engines like Google, allowing users to simply type in their desired neighbourhood or city to get results in just one click. Search results offer insightfully mapped neighbourhood snapshots, including the locations of nearby schools, restaurants, parks and hospitals - all of the things, according to Colt, that go into a buyer's overall decision-making process.
"With Zoocasa, people can find not only the type of home they want, but the neighbourhood they want to be in, with fewer steps." And just like an internet search engine, Zoocasa provides users with direct links to the primary sources of the listings they see aggregated within Zoocasa.com.
Industry experts are hailing the launch of Zoocasa.com as a watershed for real estate buyers and sellers. George O'Neill, a top Toronto-based real estate agent and blogger says, "By providing home buyers with advanced search tools, Zoocasa.com gives Canadians more insight into their home search, and creates a savvier, more-educated consumer for the real estate agent."
Other Zoocasa.com features include:
Email alerts to notify prospective buyers when list prices go up/down
Email alerts with new listings that match a buyer's list of criteria
Zoocasa iPhone application with neighbourhood-specific updates via Twitter
Access to national resale listings, from Surrey, British Columbia to St. John's, Newfoundland
Ability to drill down and find out more about specific communities, such as walkability ratings
Find out which homes are designated to specific schools
Commuter calculator, links to Walk Score ratings, and more