September 15 , 2009
Study shows who is most engaged with e-mail

Gmail users click the most, MailChimp
While the differences between Webmail properties such as Yahoo! Mail, Gmail, AOL and Hotmail may seem subtle, their user bases do not behave alike.
A study of success metrics for marketing e-mails sent through MailChimp's distribution service showed that Gmail users were most likely to open and click on e-mails.
Open rates varied from a low of just over 20% for e-mail sent to AOL users to a high over nearly 31% among Gmail users. The click rate on e-mails sent to Gmail accounts was more than 7.4%, compared with rates between 4% and 5% for Yahoo!, AOL and Hotmail users.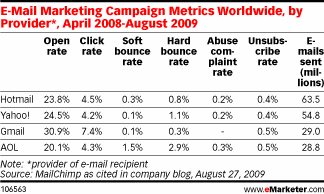 Messages sent to Gmail accounts also had the lowest hard bounce rate, though other data indicates Gmail's spam protection may be so stringent that messages disappear without producing a bounce. A 2009 Return Path study, for example, found a 23% non-delivery rate for marketing messages sent to Gmail.