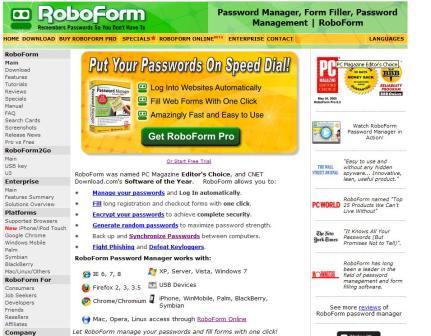 October 27 , 2009
RoboForm makes remembering passwords easy
App helps you keep track of multiple IDs
Are you having trouble remembering all of your online logins and user IDs? Are you running out of unique combinations of characters and numbers to make up the dozens of passwords required for your online activities? If you answered yes to either of these questions then RoboForm Online may be just the solution.
Created ten years ago as a simple form filler, RoboForm has evolved into an online password management solution that also generates secure passwords for you. With over 38 million downloads to date, RoboForm Online has won accolades and awards from satisfied customers.
"There was a real need for it," says Bill Carey, VP Marketing for RoboForm. "Let's face it, unless you're Rain Man, you're not going to remember all of your passwords. RoboForm Online is kind of a game changer on this front."
The RoboForm application is free for ten passwords or less. If you have more than ten you can pay a one-time fee of $30 and upgrade. RoboForm Online is Windows compatible and the company is working on a native version that will work on MACs. The application also sync with your desktop so you can access it through your login.
"We're working on having RoboForm everywhere," says Carey. "It works on any mobile device, we just released an iPhone app and Version 7 will allow users to log on through non-web applications like Quickin."
The word-of-mouth response has been so great that RoboForm hasn't had to do much advertising, relying instead on public relations and cross promoting with other software products.
"People just love the product," says Carey, "and our customers are telling us that once you use RoboForm Online you can't imagine what you ever did without it."