October 13 , 2009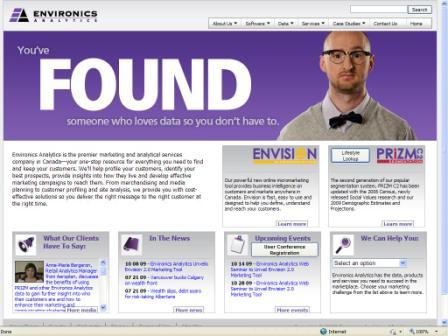 Envision 2.0 packs marketing smarts
into easy-to-use online platform
Enhanced online marketing tool helps companies better connect with customers
Environics Analytics (EA) has released the second generation of its popular micromarketing tool, Envision 2.0, offering a suite of one-click applications to help companies in any industry better connect with customers and markets. The enhanced online marketing tool offers many new reports and features such as enterprise-wide capabilities and custom benchmarks for trade areas and profiles.
Designed to take advantage of both customer data and a variety of marketing databases, Envision 2.0 delivers EA's popular PRIZM C2 segmentation system and its links to all the important Canadian marketing surveys and databases from such sources as BBM RTS Canada, NADbank, PMB, Canadian Financial Monitor and Polk NVR &TVIO. With its point-and-click interface, users can quickly create charts, maps and over 130 different types of reports. Users can perform segmentation analyses of their databases. Advertising agencies, marketing departments and even small businesses will find that Envision 2.0 can help them cost effectively understand their markets, classify their consumers by marketplace and media behaviour, and develop winning marketing strategies.
"The new generation of Envision packs a lot of marketing smarts into an easy-to-use online platform," says Carlos Moreno, EA's director of product development. "Envision 2.0 truly helps users get the right message to the right audience through the right channels."
To introduce Envision 2.0, Environics Analytics will host two online webinars, the first on October 14th, at 1:00 PM, and the second to occur two weeks later on October 28th, at 1:00 PM.