November 24 , 2009
Stats show Canadian travelers prefer to compare travel rates through online agencies
Expedia.ca and WestJet top choices for online vacation planning
Canada is home to one national airline (Air Canada), a major regional carrier ( Westjet), a few low cost carriers and international competition on international routes. One might expect Canadians to head directly to AirCanada.com to make bookings, however, Hitwise data reveal that Canadians continue to compare deals across carriers, in particular using online travel agencies.
Among Travel websites, last week, Expedia.ca and Westjet ranked #1 and #2 in share of Canadian Internet visits. Air Canada and Westjet typically trade off for the #2 spot. The following table shows the top 10 Travel websites (excluding Maps) last week.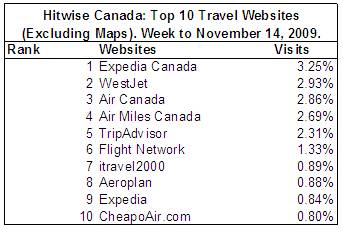 Hitwise clicsktream data provides insight into who Air Canada's top competitors are online. The #'1 website visited after AirCanada.com last week was Westjet, attracting 8.83% of downstream visits. Westjet received more than 3x the share of visits compared to Expedia.ca, the next highest competitor. The following chart shows the top 10 downstream Travel websites visited after Air Canada in the week ending November 14th, 2009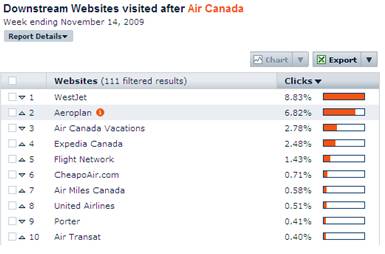 Air Canada Vacations is a popular offering by Air Canada, possibly reflecting interest in package holidays, and it appears #3 downstream from Air Canada, after Aeroplan the rewards program offered by Air Canada. Porter, a new discount carrier offering flights within Canada and some US destinations is already appearing at #9 downstream from Air Canada and Air Transat, which offers some overseas flights, is at #10.
Clickstream data can be an excellent source of insight into who your competitors are online - by revealing the competitors that customers turn to for price comparison. As we approach the season of winter getaways, it will be interesting to see how the travel landscape evolves and how some of the low cost carriers will fare.
Source: Experian Hitwise