May 5, 2009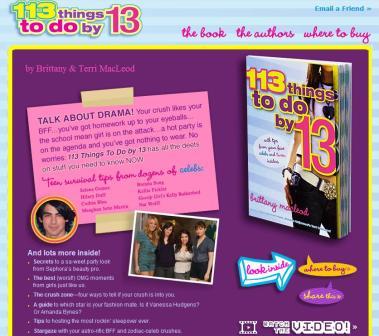 This new Harlequin sites uses social tools to target female tweens.

Harlequin pursues digital marketing solutions
Agency creates online strategy for launches
Harlequin Enterprises is using digital innovation to connect with their audience while making their advertising budget go further.
In partnership with Quizative Inc., a Toronto-based digital innovation agency, Harlequin has developed an online solution for book launches that allows them to launch one-off books and specialty lines without costly custom websites.
"We basically gave Harlequin a cost-effective solution using templates with ultimate flexibility," says Adrian Capobianco, president of Quizative Inc. "We built a foundation that offers customized templates tiered by levels of customer engagement and depth of content."
The new strategy is easy to integrate into the existing, traditional marketing plan which means a simplified process for marketing managers. And by providing efficient web development tools, Quizative was able to give their client a quicker and cheaper way to reach their audience.
"Harlequin fans want more content so now Harlequin can leverage technology in a smart way to increase their presence in the digital space without increasing the cost," says Capobianco.
This increased presence is absolutely critical, according to Capobianco, who says that digital targeting is up so far this year but there is still a gap between consumer use and corporate spending.
"Adults in North America spend an average of 20 to 30 per cent of their media time online and yet companies are only spending about eight to 10 per cent of their advertising budget on web-based solutions. So, brands are left playing catch-up with their customers."