May 5, 2009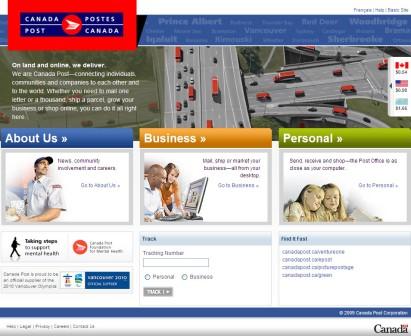 New look, better functionality at canadapost.ca
Customer feedback fuelled changes
Canada's postal service has given their online presence a facelift, with refreshed content, increased search capabilities, deeper links from the homepage and more customer-friendly navigation features. The redesigned Canada Post website went live on April 27 with better inter-operability and commonality throughout the site.
Petr Komarek, manager, Online Channel for Canada Post, says that a lot of research, conducted across the country over several years went into the new site.
"We used a combination of customer feedback and web best practices to redesign our site into a channel that enables us to make our products work better together," says Komarek.
Komarek feels that having an effective online presence is extremely important for any business, especially one as customer-focused as Canada Post.
"Having an effective, user-friendly website gives us one more tool to help our customers," he says.
The redesign included significant back-end architecture updates that make it easier to publish and manage content more efficiently.
"There are a lot of other changes coming to the site as well," says Komarek. "Going forward we'd like to look at Web 2.0 features now that we have a platform."