May 25 , 2010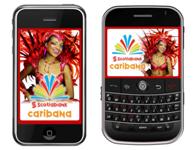 Get in the know while on the go with slick new Scotiabank mobile experience
Scotiabank to mobilize its festivals and events with the help of Simply Good Technologies
Scotiabank and Simply Good Technologies have announced a new mobile experience for Smartphone users that will add a unique experience to many well-loved festivals and events.
Starting with Scotiabank Caribana 2010, Smartphone users will now have the ability to navigate through events and access key information while on-the-go. All Scotiabank-sponsored festivals and events will have a free interactive mobile application (app) for iPhone, Blackberry and Android users.
Smartphone users can look forward to:

After the very successful launch of the free Night Navigator mobile app for the 2009 Scotiabank Nuit Blanche in Toronto, Scotiabank and Simply Good Technologies once again partner to provide more user-friendly, Smartphone apps. The Night Navigator app is still available for download and will be updated with this year's event information later this summer.
"From marathons to cultural celebrations, by working with Simply Good, Scotiabank is helping redefine people's mobile experience to make attending any Scotiabank sponsored festival much more accessible and enjoyable," said Rick White, Scotiabank Vice-President, Marketing. "When the Scotiabank Caribana app launches, attendees will have de vibe in their hands to help them navigate and participate in the festival. At the same time, mobile users will be able to find public transit and navigate around any road-closures that will be in effect. "
"Using the latest in mobile technology, we are creating an even better experience for the Smartphone device owner," said Bill McLean, co-founder Simply Good, a leading innovator in interactive mobile applications. "We enjoy pushing the boundaries to see what current technology can really bring to an event experience. At the same time, our work with Scotiabank is leading the way in creating new opportunities for businesses to engage directly with consumers which helps companies have a new kind of conversation with their customers."