May 19 , 2009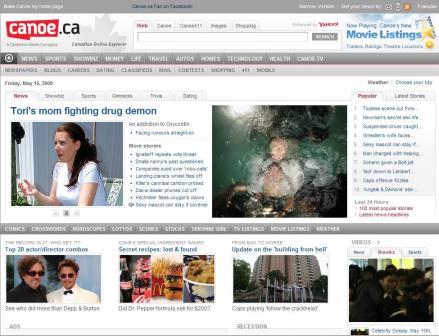 Quebecor Media embraces new media landscape
Integrates Canoe into Sun Media Corporation
Quebecor Media is seizing the opportunities available on the new media landscape by combining assets from its internet and newspaper operations. The company has announced that it will integrate its digital network Canoe into its Sun Media Corporation division.
The new multimedia company will allow Quebecor Media to move another step forward in rolling out its new business model, designed to "generate innovative and fruitful synergies within its multidisciplinary teams so that customers may take full advantage of the digital world".
"Our business environment changes constantly and quickly. The current reality dictates that we must always be reinventing ourselves, and that's exactly what we're doing," says Quebecor Media President and Chief Executive Officer Pierre Karl Péladeau. "The integration of Canoe into Sun Media will optimize the strategic alignment and efficiency of the operations by providing strong, unified leadership and will accelerate our multimedia evolution, in particular by eliminating organizational silos that have become obsolete in the multi-platform era."
According to Mr. Péladeau, Quebecor Media's properties and brands will grow even further as a result of the sharing of expertise made possible by this integration.
"As an internet leader in Canada and a local and national interactive media provider of news and entertainment websites, Canoe will bring an invaluable wealth of knowledge and complementary instincts to the Sun Media team. Similarly, with its experience as the largest newspaper publisher in Canada and as a content manager, the Sun Media team will offer considerable value added to Canoe. In fact, this marriage will allow all of us to get the most out of both worlds and to better meet the needs of readers of our newspapers and visitors to our portals."
The Canoe.ca brand and portal, as well as the jobboom.com, micasa.ca, autonet.ca, espacecanoe.ca, classifiedextra.ca, canoe.tv, canoeklix.ca and reseaucontact.com brands, will remain in place and the Canoe team will continue to support the various internet initiatives of Quebecor Media's subsidiaries.