May 19 , 2009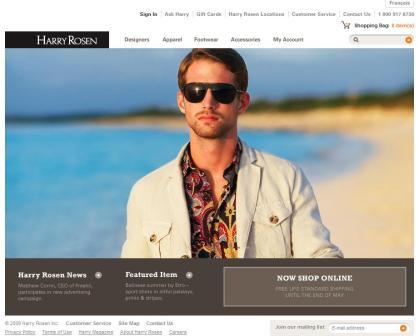 Harry Rosen caters to next generation of shoppers
Retailer launches e-commerce site to further service clients' needs

As part of a long-term strategy to provide clients with the highest level of customer service possible, and to continue to attract younger clients to the brand's stable of world-class designers, Harry Rosen Inc. announced last week that it will now be selling merchandise online at its website www.harryrosen.com.
"The challenge facing all retailers in today's climate is to remain relevant and top-of-mind with both your current and future clients," says CEO and Chairman Larry Rosen. "When we look at the next generation of clients - even when I look at my own teenaged sons - we can see that we need to sell our merchandise online to introduce them to our brand and get them into our stores, where we can develop a personal relationship with them."
Considered a separate revenue stream for Harry Rosen Inc., the site has been in the works for two years. Harry Rosen consulted with the J.C. Williams Group when building the strategy and the research presented showed that online shopping is poised for continued growth in the coming years. In Canada in 2008, one out of five customers shopped for an apparel item online, and online shopping grew overall by 61 per cent between 2005 and 2007.
"It's clear that in today's economy, multi-channel retailing is the future for leading retailers and adding an online component is a natural addition to the superior in store shopping experience at Harry Rosen," says Jim Okamura, Senior Partner of J.C. Williams Group. "While the current retailing climate is challenging, it's interesting to note that even when same store sales decline, online sales continue to go up," he adds, pointing to notable U.S. retailers such as Macy's and The Gap. In 2008, Macy's online sales were up 28 per cent, where overall sales were down 7.7 per cent. In 2008, The Gap's online sales accounted for 7.1 per cent of sales, up from 5.7 per cent in 2007.
"Our clients wanted the option of buying online occasionally - which was confirmed when we offered gift cards online during the holiday season in 2008 - so we created the site in an effort to continue to offer them the best shopping experience possible, from the convenience of their own home," says Rosen. "But it wasn't created overnight. We've learned from past experiences that it takes time to build a business model that will succeed and one that would be in keeping with our brand and relationship-based focus. As with everything we do, we want our clients to receive the best service whether they come into our store or shop with us online."
The site offers users many unique features, including the ability to communicate directly with a sales associate in a specific store from the site; to make in-person appointments; to add merchandise to a 'wish list' that can be shared with other people; and to receive recommendations from sales associates based on past purchases and history.
The site will be supported via extensive marketing efforts that will include a mix of traditional channels and online advertising including banner ads, search engine marketing and social media.