May 18 , 2010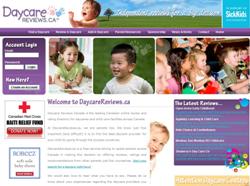 Daycare 101: new site helps identify the good, the bad and the ugly of the Canadian child care industry
Enterprising mom launches leading Canadian online daycare review site
Tired of the lack of first-hand information available online for new parents looking for daycare, Andrea Taylor decided to take matters into her own hands. A web designer by trade, Taylor created daycarereviews.ca to help other new parents like herself locate reputable day care services in their area.
"While I was pregnant I began looking online for reviews of local day care services and couldn't believe that there weren't any," says Taylor. "So I figured someone has to provide this service."
Launched in August of last year, daycarereviews.ca is built on an extensive database and is designed to finally consolidate daycare information for Canadian parents. It's a free service and is not revenue driven.
"There are some ads on the site that we felt would be relevant to parents such as ads for baby clothing or books but the main purpose of the site is to provide a forum for parents to let others know their first-hand experience with day care services."
The listings are all Canadian and are nation-wide. Visitors to the site have a number of services at their fingertips. They can review a day care, search for a day care service in their area and read posted reviews, or utilize the parent resources in a variety of categories from safety to nutrition.
And soon to be added will be a daycare forum for parents to ask questions and connect with other parents.
Traffic numbers vary from day to day and depend on the time of year but according to Taylor the site's popularity is growing. So much so that she'll be launching childcarereviews.com for the U.S. market.