May 12 , 2009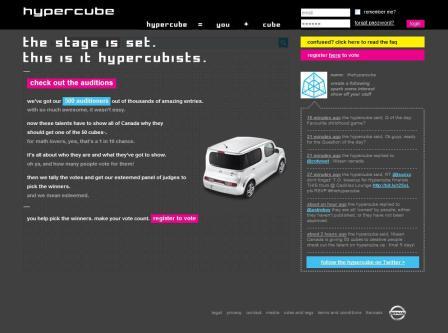 Nissan's outside-the-box campaign builds community of advocates
for Cube brand
Car maker takes radical steps to increase brand awareness in Canada
By Amy Bostock, Editor
Nissan Canada is taking a new approach to launching their newest vehicle, the Cube that is exclusive to the Canadian market. The "Hypercube" social media campaign designed for Nissan by interactive agency Capital C, is a radically different approach for the car maker.
"We quickly realized that Cube drivers were the right target audience for this type of campaign," says Catherine Green, Advertising Manager for Nissan Canada Inc. "They are mid 20s to 30s who are somewhat quirky, creative and innovative. They also are somewhat resentful of advertising so instead of shouting our message at them we are engaging them."
By visiting hypercube.ca, contestants can sign-up and fill out their hypercube profile. Beyond that they can also follow the contest ("thehypercube") on Twitter to stay in the loop, get you hints about what the judges are looking for, share links or photos and generally get themselves noticed. A panel of judges, along with votes from site users, will determine the 50 winners who will receive a free Nissan Cube.
"We've had an amazing response," says Green, "and even some people who have taken time off from their jobs to dedicate themselves to winning a Cube."
The response has been surprisingly easy to measure, says Green.
"We check the site every day to see who has registered and where they've heard about the contest. We're actually finding that there are more metrics available with social media campaigns than with traditional advertising."
Although the U.S. Nissan offices had some trouble wrapping their heads around this social media tactic, Green said in Canada it was an easy decision.
"It's absolutely critical right now for us to look at different ways to reach our audience," she says. "There aren't any auto makers right now who haven't been hit with budget cuts so we have to be smarter with our marketing dollars."
Green cautions that companies have to be careful not to underestimate the amount of engagement required to run a social media campaign.
"You can't just work on your own time schedule. In order to build a community of advocates for your brand, you have to be committed to having conversations with your customers on their time."
Entrants must register on the Hypercube website and complete a survey, expressing why they should be selected to audition. Survey entries will be scored, and a maximum of 1,000 entrants will be selected as initial finalists. The top 500 scoring finalists from this group will be selected to audition through an online "canvas" that illustrates their talents, skills and characteristics. A panel of judges will select 50 from across Canada to receive a 2009 Nissan Cube. The call for entries closes this Thursday and the winners will be announced in mid-June.