May 12, 2009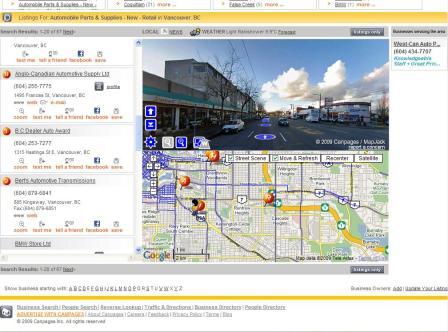 Canpages' Street Scene coming soon to iPhones
New search feature first of its kind in Canada
In a David and Goliath story, Canada's own Canpages has not only beaten global giant Google to the punch with their Street Scene feature and voice recognition iPhone application – both firsts in Canada - but they will soon be releasing the Street Scene app for iPhones as well.
While Google Street View will soon be available for many major Canadian cities, Canpages.ca has been offering a similar service for Vancouver, Squamish, and Whistler maps since March 16, 2009.
The push to release Street Scene was prompted by the upcoming 2010 Vancouver Olympics.
"We've seen a huge increase in traffic to the Canpages site since we launched Street Scene," says Matt Jackson, Director of New Media Product Development for Canpages. "We're getting about 150,000 unique visitors a day on Canpages.ca right now."
Long known as Canada's largest independent local search and directories publisher, the company has over 80,000 customers and their print directories reach more than eight million households and businesses across Canada. But when it comes to local search, it's the Canpages.ca website that has really taken off. In the recently released comScore 2008 Digital Year in Review, Canpages was named the fastest growing online property in Canada for 2008.
"Although we began as traditional media, we saw the need to move online," says Jackson. "And because we are still relatively entrepreneurial we were able to do that more quickly. We didn't try to fight the technology but instead spread our traffic and budget across multiple platforms."
Street Scene provides panoramic street-level views of a city so that users can not only pinpoint their search results on a map, but also see street level photos of their search results in the context of the local environment. To date, Canpages has captured panoramic views of Vancouver, Whistler and Squamish, B.C. streets and has plans to roll the functionality out to more cities across the country in the coming months.
In the wake of privacy concerns raised around the release of Google Street View, Canpages has made respect of privacy a major priority for its services and wants to make sure the public understands the privacy policy for its Street Scene photos:
1. Canpages will notify the public before further shooting
2. Canpages blurs all faces (and other recognizable features like license plates)
3. The blurring process is irreversible and cannot be decoded by any user
4. All original non-blurred files are being destroyed after blurring and before going online
5. Users can report any concern at any time using the "report a concern" feedback in each image
6. On request, Canpages will provide extra-blurring for an entire person, a vehicle, a pet, a window, a whole building, etc.
Street Scene to go
As part of their strategy to get content to customers however and wherever they want it, Canpages will soon be releasing the Street Scene app for iPhones. Currently in Beta testing, the app will allow users to perform search and them download the Street Scene images directly to their iPhone. The voice recognition feature makes it easy for users to get directions safely while travelling.
Street Scene is already as a BlackBerry application and the built in GPS allows users to find and store contacts, view coverage from traffic cams and plan routes accordingly, and have saved routes texted to your phone.
"We see a lot of value in adding Street Scene to mobile devices as it drives more people to our site," says Jackson.
Advertisers also benefit from the addition of mobile since all of the ads that appear on the website will show up on mobile devices, resulting in increased reach.