May 12, 2009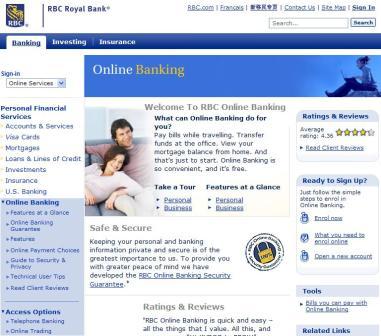 Study grades sites of Canada's top banks
RBC Royal Bank sets the standard
RBC stole the top spot from CIBC in this year's Forrester ranking of Canadian bank public websites, scoring 74 out of 100, thanks to a complete redesign of the bank's homepage, deposit and credit card pages.
For the fourth year in a row, Forrester evaluated the websites of the seven largest Canadian banks and credit unions — Bank of Montreal, CIBC, Desjardins, National Bank of Canada, RBC Royal Bank, Scotiabank, and TD Canada Trust — using a variety of criteria to evaluate the various banks' websites and review their ease of use and the value they offer clients. Forrester's assessment included navigation, presentation and research, and online application content functionality for both chequing accounts and credit cards.
RBC scored significantly above minimum standards across the board, with its highest scores coming in the areas of site navigation, presentation and research.
"RBC excels by striking a balance between products and goals," Forrester stated in its April 2009 report entitled 2009 Canadian Bank Public Web Site Rankings. "In 2009, RBC got more specific and clear with product categories on the home page and general terms like "accounts" were replaced with more specific links to "banking" and "savings", which allowed users to more easily get to product information."
According to the report, the bank's website redesign is an early indication of things to come.
"Overall, Forrester was disappointed with the lack of progress over the past year, but we believe that the 2010 Canadian public site ranking will show a vastly different result. By the 2010 review, several other Canadian banks will have followed the path of RBC and finally figured out how to effectively sell on the web."
2009 Canadian bank public website rankings (out of a possible 100)
RBC Royal Bank – 74
CIBC – 68
TD Canada Trust – 61
National Bank of Canada – 56
Desjardins – 53
Scotiabank – 50
Bank of Montreal - 43