March 24, 2009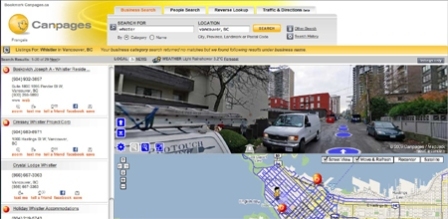 Street View allows users to take "virtual walks" on city streets
Canada's first street view map service
unveiled amid privacy concerns

The first Web-based, interactive, street-level map of Canada launched last week at Canpages.ca featuring panoramic photos of Vancouver, Whistler and Squamish, B.C has caught the attention of privacy watchdogs, according to a report by IT Business. Similar to Google's Street View launched in 2007, Canpages' Street View service allows users to take a virtual walk on city streets thanks to high-resolution images taken by a special 360-degree camera.
Users on the Canpages Web site can look up a business and then see a typical view of its location in Google Maps. The new feature adds a "Street View" button that takes you down to view main streets, residential streets, and even some pedestrian walkways.
The Burnaby, B.C.-based local listings company had 3.5 million unique visitors to its site in February.
Google's Street View service raised the ire of many privacy advocates because of its publishing of clearly identifiable individuals in public. The service has since started blurring out the faces of people who happen to be caught on camera. The Canpages service also blurs out faces to ensure that no one will be recognized.
All images used by Canpages are reviewed by humans to blur out the faces captured, according to president and CEO Olivier Vincent. The company chose to blur the faces instead of use a twirl distortion because there is software that can un-twirl the faces. The tool also has a "report a concern" link in its lower right-hand corner and Canpages will remove any photo that someone files a valid concern about, Vincent says.
The company plans to continue to roll out Street View service to other areas of Canada and a mobile version, which should be available in three months,is also being worked on using Microsoft Virtual Earth.