March 24, 2009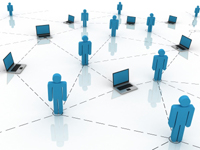 MTS Allstream wants CRTC decision limiting competitive broadband Internet access overturned
Competitive access to broadband and the Internet is essential for Canadians and Canadian businesses
MTS Allstream Inc. has petitioned the Federal Cabinet, requesting that the Government of Canada vary a recent decision by the Canadian Radio-television and Telecommunications Commission ("CRTC") that is denying Canadian telecom customers the benefits of choice and innovation in broadband services that can only be delivered via competitive market forces. The petition is centered on a CRTC decision related to the Essential Facilities regime, the rules of which restrict competitors from offering choice and lower prices for telecommunications services to millions of businesses across Canada.
MTS Allstream is asking the Federal Cabinet to take the necessary steps to have the CRTC recognize that competitive access to broadband and the Internet is essential for Canadians and Canadian businesses in the 21 st century.
"The CRTC's current position is inconsistent with the Federal Government's current policy direction for smart regulation, is inconsistent with global regulatory trends designed to encourage competition and, above all, it is inconsistent with the increasingly dire need for Canadian businesses of all sizes to gain access to new, innovative and productivity-enhancing technologies," said Chris Peirce, Chief Corporate Officer, MTS Allstream. "As it did for the wireless industry, the government can deliver the benefits of competitive market forces to all Canadian businesses by ensuring the CRTC uses smart regulation to prevent the de-regulated former monopolies from being able to raise prices with impunity."
Twice in 2008 the CRTC refused to mandate that the former monopoly telephone companies provide competitors with fair access to the local broadband networks they control and which are essential for competitors to deliver high-speed broadband services to customers. Since the CRTC has also decided to de-regulate the retail pricing of the same former monopoly telcos, the result is that Canadian businesses are paying higher prices for less innovation in the services they are offered.
"Canadians now pay higher average monthly broadband prices than all comparable jurisdictions. Within the OECD, only Greece, Mexico and Turkey are more expensive," said Peirce. "These trends are not ones that will help Canada face down current economic challenges and succeed in the long term. As we have seen with the success of the recent wireless spectrum auction, vigorous competition can happen in Canada, and Canadians will benefit."