June 30, 2009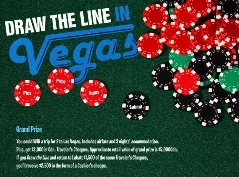 Labatt takes 'responsible use' message online with new multi-channel campaign
Brewery embraces new technology to reach younger audience
Just in time for the Canada Day holiday, Labatt is embracing the technology of today's young people and launching a new online advertising and social engagement campaign to promote its long-running moderation message.
Research shows that 19-24 year olds spend more time online than they do watching television. They are steadily turning to social networks, blogs, instant messaging, Twitter and YouTube as their primary sources of information. As the first online generation, technology is embedded into everything they do. Labatt's new campaign reflects this age of public engagement.
As an update to Labatt's well-known slogan, "Know When to Draw the Line," the new campaign humourously points out that there are many aspects of life in which Canadians should draw the line. Labatt's creative agency, Agency59 in Toronto, produced a series of static and dynamic online ads that depict over-the-top scenarios – a couple sporting leopard print, body painted unisuits, a man tattooed from head to toe, a tiny dog overly accessorized, and a woman with a few too many garden gnomes. The ads, designed to run as leaderboard, skyscraper and big box creative will launch on July 1, 2009 .
"For more than two decades, Labatt has taken a leadership role in building awareness among Canadians about drinking responsibly," said Sharon Mackay, director of corporate affairs, Labatt Breweries of Canada. "We look to this group of ambassadors to help ensure their peers are hearing the messages too, and conducting this campaign entirely online just made the most sense. This is where this group is spending more and more of its time and employing tools like Facebook allows for meaningful engagement."
"With this campaign, we redefine 'Know When To Draw the Line', making it bigger, and more relevant," said Brian Howlett, chief creative officer, Agency59. "Using photos as the driver is a natural, as today's youth are sharing pictures online all the time."
The campaign contest element, "Draw the Line in Vegas" invites Canadians to post and share photos on an "Everything in Moderation" Facebook page. Labatt is asking Canadians to upload photos depicting their own examples of the outrageous and over-the-top. Between July 1 and August 31 online users can vote for their favourite. The winner will be announced on September 1 and will receive a trip for two to Las Vegas and $2,000 spending money. True to the moderation message, if winners "know when to draw the line" and return with $1,500 of their spending money, they will win an extra $1,000. The Facebook page will also include Labatt's Make-a-Plan tips – practical advice for responsible use and planning ahead. Visit the Facebook page at: www.facebook.com/pages/Labatt-Draw-the-Line/91507788043