June 2 , 2009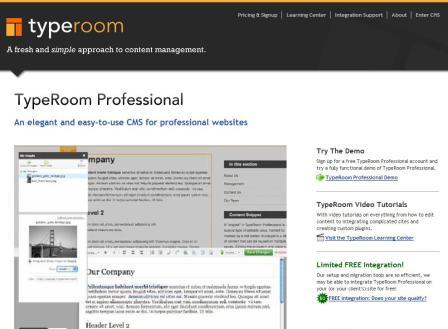 Simple, affordable way to manage websites
Point-and-click editing tool saves money
Now people with no programming knowledge can visually edit every aspect of their website and publish changes instantly, thanks to TypeRoom, a point-and-click editing tool designed to work seamlessly with existing websites.
Requiring little to no setup cost, TypeRoom, which launched May 19, is geared towards companies with hierarchical-designed websites of 10-1,000 pages who are looking for a nice, easy editing experience.
"Editing your website shouldn't be a chore", says TypeRoom founder Reilly Sweetland. "We focused a lot on the design and features of TypeRoom in order to enhance the user experience and to automate things that would normally require hand-holding."
TypeRoom incorporates user-friendly tools that make integration extremely simple. Many website owners, even non-techies, can integrate TypeRoom themselves. To edit websites, simply drag and drop images and content into place, click on content areas to be edit and format text and publish your changes immediately.
"TypeRoom was created to be a simple, no-hassle solution to managing content on a website," says Sweetland.
With prices starting at just $24 a month for a site with a 50-page limit, TypeRoom is an affordable alternative to expensive website maintenance.
Although the system itself isn't feature-rich, lacking things like calendars and blogs, Sweetland points out that it does have an extendable plug-in system, which TypeRoom has made both flashy and intuitive.