June 23, 2009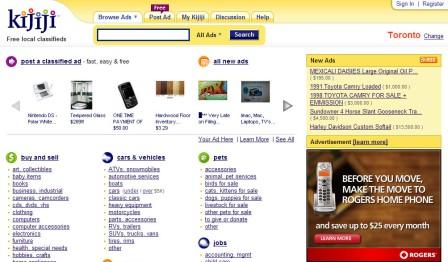 Kijiji Canada launches national ad sales group
Site to offer behavioural targeting services
Recognizing the growing potential for online advertising sales in this country, Kijiji Canada has launched an advertising sales team that will focus specifically on the Canadian market.
"We started a Canadian sales force last year, kind of under the radar because we weren't convinced about the potential revenue of online ad sales," says Eric Pierni, Head of Advertising Sales for Kijiji Canada. "But we had great success that showed us that this was a lucrative segment that needed addressing."
At an event in Toronto last week, Kijiji also announced their new behavioural targeting services that will allow marketers to focus their online advertising based on how users are using the internet.
The service, which has been in the works for about six months, really leverages the deep segmentation that Kijiji has become known for. It allows advertisers to target consumers based on geography, category/subcategory and in some cases even by brand or product.
"To make successful buys, companies need to have as much data as possible at their disposal," says Pierni. "Our behavioural targeting allows our advertisers to be as specific as they want to be."
"As the digital landscape in Canada grows in terms of penetration and usage among all key buying and planning demographics, the web will be an ideal medium for marketers to identify and target their audience," says Bryan Segal, vice-president, sales for comScore. Speaking at last week's Kijiji event, Segal explained how the ability to segment consumers based on detailed insights into their behaviour will be an important tool for developing effective media plans