June 23, 2009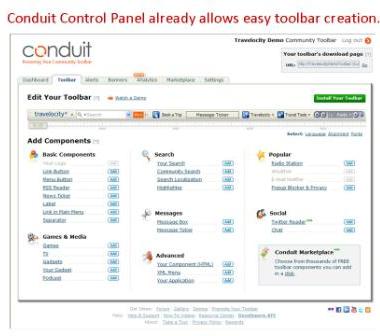 Conduit brings social networking to the browser
Conduit Open enables content sharing
Conduit, a leading provider of website syndication solutions, today announced the Conduit Open™ standard, designed to open up a world of new opportunities for sharing content and applications via community toolbars across the web.
Conduit Open was created to meet the need among web publishers to get new users, increase retention, and acquire the massive distribution opportunities previously only available to the world's largest brands.
"Conduit Open enables publishers to successfully ensure that their content gets picked up by users' tool bars," says Adam Boyden, President of Conduit. "By increasing their content they also increase their attractiveness to consumers."
The Conduit platform is an "open" system that is free and easy to use. More than 200,000 web publishers have already created community toolbars that are used by more than 60,000,000 end users around the world. This massive network of web publishers and users are all standardized on one cross-browser technology, and to facilitate sharing among them Conduit has introduced two new modules - the Conduit Marketplace and the 2go syndication tool.
Marketplace
The new Conduit Marketplace is a distribution center where any publisher can offer their content to any other publisher or user in the network. The Conduit platform facilitates this sharing with a new technology that "gadgetizes" the feeds, menus, content, and applications from web publishers' community toolbars. These components can then be shared with the network on the Marketplace where other toolbar publishers can add them to their custom toolbars. Users of community toolbars users can browse and search the Marketplace to choose additional components to add to their own toolbar. Neither toolbar publishers nor users need any technical skills to add components.
"This service is strong from a marketing standpoint as it drives traffic to a company's website," says Boyden. "From an end-user standpoint Marketplace is strong because users can add their own content and customize their toolbars."
Conduit 2go
The company is also introducing the "Conduit 2go" syndication tool. This branded button enables any web publisher to gadgetize a piece of their web site and let their visitors take it with them. For example, a visitor to the eMusic website can now add the eMusic "Song of the Day" component to any toolbar powered by the Conduit platform. And if this user does not have a Conduit-powered toolbar, they will have the option to add the eMusic toolbar to their Internet Explorer, Firefox or Safari browser.
According to Boyden, Conduit Open addresses, and solves, a major problem for web publishers who use the browser for marketing and distribution.
"The problem with toolbars has always been that they use too much space," says Boyden, "so most users aren't likely to keep multiple toolbars."
With the addition of the Marketplace and 2go, web publishers may now offer a single component to other toolbar publishers and users for placement on any toolbar powered by the Conduit platform. Every toolbar publisher may also include the components of other web publishers on their toolbar in order to offer their users the best and most relevant content and applications, regardless of origin.
"When web publishers choose to offer a branded toolbar, they often believe they have to compete for users against all other publishers since many users will typically choose to install just one," said Ronen Shilo, CEO of Conduit. "With the introduction of the Marketplace however, publishers can cooperate with each other, sharing applications and helping each other gain new users and customers. This is going to change the way that people share information."
The Conduit Open standard offers distribution opportunities to publishers of all sizes, however, it is particularly advantageous to small web publishers that can expose their content and applications to a massive audience that might never have otherwise heard of them or visited their site.