June 23, 2009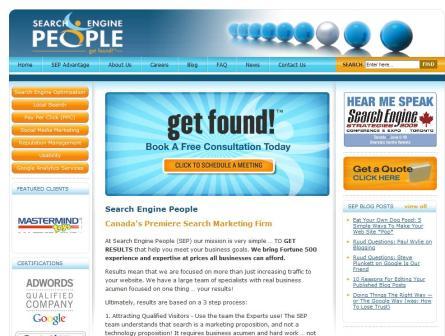 Search Engine People thriving in tough times
Ajax company named to Profit 100 list
Search Engine People has just been named to Profit 100's list of Canada's Fastest-Growing Companies.
"This is great news for the online marketing industry, since it demonstrates that the online marketing channel is growing by leaps and bounds when such an authoritative non-internet marketing specific publication recognizes the growth in our industry," says Helen Overland, Director of Marketing and Training for Search Engine People.
CEO Jeff Quipp, who founded Search Engine People in 2001, says that the success of his company during a time when many other businesses are struggling can be attributed to a 'perfect storm' effect in the industry.
"The online marketing industry is growing faster than the economy is shrinking," he says. "More businesses are making the move to online marketing because with limited budgets, they want to be able to quantify the results and measure ROI for specific campaigns and actions."
The philosophy of Search Engine People is win, win, win. The client has to win, the employees have to win, and the company itself has to win.
"We accomplish this by building long-term relationships with our clients," says Quipp. "We're not looking for short-term, we want to be able to look at our client list five years down the road and see the same ones that we see today…as well as new ones of course."
Search Engine People is currently in expansion mode, with their British Columbia office scheduled to open in August and Montreal location expected to be up and running by the end of the year.