June 16, 2009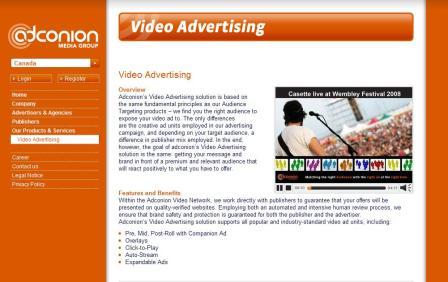 Online video ad network launched in Canada
Helps business engage online audiences
A new online video network, launched in Canada by Adconion Media Group, offers Canadian advertisers an additional channel to connect with their customers through a video-enabled network of highly-trafficked news and information, lifestyle, sports and social media web sites.

A recent U.S. Interactive Advertising Bureau report shows that there has been 126 per cent growth in online video advertising in 2008. Adconion's online video network can help Canadian marketers engage their most important online audiences through branded video content experiences, including branded entertainment, pre-, mid- and post-roll ads, audio stream and video overlay ads.

The proprietary technology also provides marketers with detailed web analytics, including the ability to see how users are interacting with video content - including which segments users are replaying or going back to - enabling marketers to optimize their messaging and content, even mid-campaign.

"Advertisers, now more than ever, are looking for measureable ROI to justify their marketing investments," says Keith Kaplan, Adconion Media Group president for North America. "We look forward to helping our agency partners in Canada connect with online Canadians in new and innovative ways through the power of online video."

According to comScore Media Metrix, Canadians were the heaviest viewers of online video in January 2009, with 88 per cent of Canadians who used the internet that month watching video.
"As marketing spends continue to tilt from the traditional toward the online space, Adconion's video platform takes interactivity to a whole new level," says Tina Mooney, sales director for Adconion Canada. "Tailored content delivers better informational value to the consumer, ultimately helping to present brands in a whole new light."

Through Adconion's exclusive agreement with state-of-the-art creative production house RedLever, Canadian marketers have access to a leading firm that can repurpose existing offline video assets to meet the technical and creative requirements for the Web, in a straightforward and hassle-free way. RedLever is also expert in the arena of development and production of high-quality, branded online content.