June 15 , 2010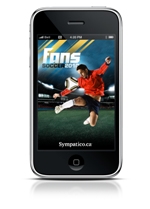 Soccer Fans 2010 from Sympatico.ca brings iPhone users up-to-the-minute results
Free app lets World Cup watchers enjoy the game and chat with fellow fans
For the Soccer World Cup, taking place in South Africa from June 11 to July 11, Sports.sympatico.ca is launching an iPhone/iPod application called "Soccer Fans 2010" to accompany Sympatico's new microsite.
Available from the App Store, this free app lets fans of "The Beautiful Game" get live match updates, share their comments, photos and videos with other fans, as well as check the schedule and find out what bars and cafés in Vancouver, Toronto andMontreal are showing the events they want to see. The application offers the following features:
Statistics and full schedule for the 2010 World Cup
Real-time results for each game
Team rankings
Live chat with fans around the world
Geolocation of bars and other venues in Toronto, Montreal and Vancouver, where fans can watch the games
Cheering and voting for their favourite teams
Sharing of photos, videos and comments with fans around the world
After the Stanley Cup fever, it will be time for soccer fans to make their presence known. "Fans went wild during the last World Cup in 2006. With mobile technology, people want to communicate their experience while it's happening," says Matt Houghton, Associate Director – Sports at Sympatico.ca. "For Sympatico," he adds, "our goal was to offer a way for fans to follow the World Cup live, share their opinions with people around the globe, and join their friends at their favourite local spots to watch games."
Thousands of visitors are expected at the upcoming G20 Summit in Toronto. For people who are seeking a bar or restaurant to watch a game, the application's mapping feature offers a GPS function that allows it to pinpoint their current location, as well as the nearest place where they can catch a live broadcast. In addition, Soccer Fans 2010 even maps locations that identify themselves as supporters of a specific team!
The World Cup is the planet's most popular sporting event. From June 11 to July 11, 2010, 32 nations meet head-on for the chance to hold the legendary trophy, which is 36.8 centimetres tall and weighs 6.175 kilos in 18 carat gold. Globally, the 2006 World Cup garnered an estimated 26.29 billion non-unique viewers, compiled over the course of the tournament *.
The application is now available online on the App Store.
About Sports.sympatico.ca
Each month, more than 800,000 unique visitors are drawn to Sports.sympatico.ca , where they can read breaking sports news, follow columnists and bloggers, and check the day's scores.
About Sympatico Mobile
With more than 50 million page views each month, Sympatico.ca Mobile Network offers Canadian advertisers superior reach through its premium network of mobile sites. Contextually relevant advertising, coupled with rich targeting abilities, provide a meaningful, measurable and effective mobile experience. To help brand managers reach their targets, Sympatico.ca Mobile Network has developed a roster of Canada's premium mobile publishers, enabling Sympatico to deliver first-rate mobile campaigns with precise targeting mechanics.
Advertisers benefit from a wide range of campaign options, including highly effective media such as banners, video and real-time reporting.