July 7, 2009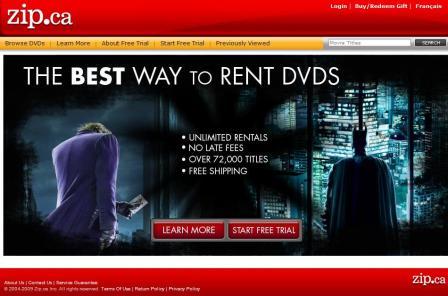 Zip.ca brings streaming movies to Canada
Online movie service first of its kind
Sonic Solutions and Zip.ca announced last week that they would be partnering to provide Canadian consumers access to high-quality digital movie downloads.
As part of the alliance, Zip.ca will introduce a digital movie service powered by Roxio CinemaNow, offering movies and TV episodes that can be instantly downloaded on PCs. In addition, the service will be embedded in consumer electronics (CE), enabling consumers to stream premium video entertainment directly to a range of home and mobile devices.
"We've been working on this for quite a while and now the pieces have all fallen into place," says Curt Millar, CEO of Zip.ca. "We were really pushing to launch the service before the Christmas season because we want people to think about which devices are internet enabled when they are making their purchases."
This online movie service will be the first of its kind in Canada and won't require a set-top box or premium cable package to access it.
"All you need is the internet," says Millar.
According to Millar, the response from both the consumer electronic world and the entertainment industry has been very positive.
"The entertainment industry likes this service because it cuts down on illegal downloads," says Millar.
New service hopes to decrease illegal downloads
But will Zip.ca's new offering really make movie watchers more honest? Millar is cautiously optimistic.
"We believe that most people are honest and that if we give them a legitimate avenue to download content then they will take it."
With over 72,000 titles currently in their DVD library, Zip.ca hopes that the new streaming service will compliment their existing offerings and bring their customers the best of both worlds.
"Our DVD rentals will continue to be a major part of our business for the next few years," says Millar. "This technology is new and it will take a few years for televisions in homes to be internet connected. It's a space people want to investigate and as people become more comfortable in the space, I think more people will take advantage of the streaming movie service."
In the meantime, Zip.ca will continue to monitor and measure customer experience in order to effectively drive development of their services.
This partnership also marks an important expansion for Roxio CinemaNow, which will gain a strong foothold in the Canadian marketplace and the ability to offer CE device partners a more flexible, multi-region enabled solution.
"Our collaboration with Sonic will allow Zip.ca to provide subscribers a new, flexible way to digitally access high quality entertainment in addition to the full catalogue we currently offer by mail," said Curt Millar, CEO, Zip.ca. "We are already Canada's leading DVD rental service; now we hope to fuel membership and growth by becoming the Canadian consumers' destination for seamless digital movie access - a one-stop Entertainment shop."
The companies are currently collaborating with content owners to build an entertainment library that will expand over time and include new releases, catalog movies and TV shows. This will result in the first large-scale commercial movie download service in Canada. Zip.ca is exploring a number of models for its digital service including à la carte rentals and purchases as well as subscription-based options.