July 7, 2009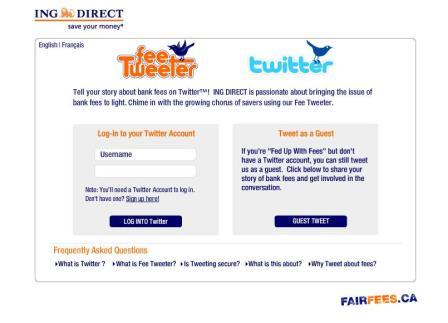 New Twitter app puts bank fees in the spotlight
Track fees with Fee Twitter from ING Direct
ING Direct has become the first bank in Canada to offer a Twitter application that helps their customers track their bank fees. "Fee Tweeter"'enables users to tweet their bank fees and keep track of how much they are actually spending.
Fee Tweeter is for Canadians who want more control over their finances. he application allows savers to share and compare the bank fees they've been harged and gives users a place to voice their thoughts on savings, especially n one of the most important topics in personal finance today - unfair bank fees.
"At ING Direct, we're always finding new ways to help Canadians save, and that includes helping them know more about the fees they're paying," says Peter Aceto, President and CEO of ING Direct. "We've noticed a trend from Canadians' feedback on Facebook and Twitter that they are not saving as much as they'd like to, especially in today's economy. And to make it even more difficult, some financial institutions keep increasing and adding more fees, often wiping out any interest that might have been earned, making it even tougher for Canadians to save."
Twitter or not - you can use Fee Tweeter
Users can access Fee Tweeter in two ways. Those with Twitter accounts can tweet to @FeeTweeter. Every two weeks, a direct message will be sent back to the user about their total fees tweeted to date, or they can log in to their Twitter account at http://FeeTweeter.fairfees.ca to view their total any time.
For those who don't have a Twitter account, they can log in via a guest account (FedUpWithFees) on http://FeeTweeter.fairfees.ca. The Fee Tweeter stream also displays Tweets from other users commenting about their fees.
"We are listening to Canadians' concerns. That means, if they are talking on social media such as Twitter and Facebook, we want to be part of that conversation," says Peter Aceto, who tweets regularly as @CEO_INGDIRECT. "As a leading online bank, it makes sense that we'd help Canadians talk about their savings in the same space."
ING Direct also has its own Facebook group at www.facebook.com/SuperStarSaver
Fee Tweeter is a new part of the fairfees.ca initiative launched last month by ING Direct. The website provides information, encourages discussion and challenges Canadians to speak up about what are fair - and unfair – bank service charges and fees.