July 7, 2009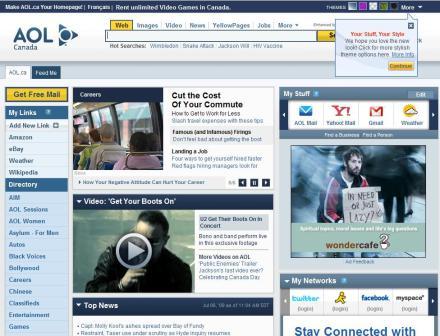 New homepage part of AOL Canada growth strategy
More opportunities available for advertisers
AOL Canada has re-launched its homepage which now allows consumers to access multiple e-mail accounts and social networking services from a single online destination. The new AOL.ca homepage will also be opened to third-party services and content, providing consumers with new customization options while offering advertisers new opportunities to tap into an increasingly engaged audience.
The improved homepage is part of an ongoing global expansion strategy from AOL's publishing division and includes the Canadian launches of women's lifestyle site That's Fit and AOL Music blog Spinner Canada.
"With today's Internet ever-expanding and consumers engaging in multiple social networking platforms, it is essential that their experience on the Web is both personalized and integrated," says Edward Kwan, Senior Director of AOL Canada. "The launch of the new AOL Canada portal enables exciting new opportunities for the Canadian market. In terms of advertising, Platform-A Canada will now have the capability to expand its reach across more relevant and media-rich content and channels."
The new homepage's design and features have already proven a success in the U.S., with the relaunch of the AOL.com homepage in September 2008 growing 23 per cent in unique visitors, 34 per cent in total page views and 61 per cent in total minutes consumed year over year,according to data collected by comScore.
The AOL.ca page also builds on the success of the recent UK beta launch of the AOL.co.uk homepage and features new tools that allow users to further personalize and control their online experience, from display and design to navigation, news feed options and social media.
Some of the innovative features added include AOL Canada users being able to check their Google Mail, Hotmail, Yahoo! Mail, in addition to their AOL Mail e-mail accounts. They can also stay in touch with their online buddies via AOL's AIM service. From the AOL.ca homepage, users will also be able to post status updates to multiple social networks, and access profile activity information, including new friend requests and mail notifications, from services such as Facebook, MySpace, Twitter, AIM, Bebo and other third-party sites in the future.
New opportunities for advertisers
AOL Canada's new homepage offers advertisers ad formats and capabilities including rich media options and content integration opportunities. In support of the new launch, Pepsi was the primary sponsor of a homepage takeover on June 29 and 30, promoting their Project Breathtaking campaign. This included 100 per cent ownership of the new 300x600 and 408x80 ad placements.
Other new AOL.ca homepage features include:
Customized backgrounds with multiple new designs from which to choose;
Ability to add any customized links to the homepage so users can more easily access their most frequently visited sites;
Users can drag and drop to reorder channel navigation to suit personal preferences;
Users can add RSS feeds and personalized categories to get content from their preferred external sites.