July 28, 2009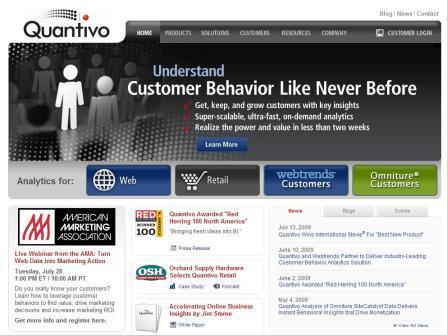 Track and respond to your customers' online behaviour in real time
New behavioural analytics service cuts out costly processing time
Today, Quantivo announced that its behavioral analytics service will be hosted on Amazon Elastic Compute Cloud (Amazon EC2). Amazon EC2 enables Quantivo to increase or decrease a customer's analytic computing capacity within minutes, which can make the difference between capitalizing on a customer trend and missing it all together.
"Online trends develop and diminish so quickly now," says Brian Kelly, CEO of Quantivo. "Companies need to be able to track those trends and respond to them in real time."
According to Kelly, in today's economy it's all about speed, cost and the ability to answer questions about the data companies collect. Amazon EC2 provides an infinitely scalable and elastic environment to process the billions of customer transactions quickly.
Don't get left behind
As more people around the globe use the mobile web and social media sites, trends, fads, and purchasing behavior will increasingly change in minutes. A great example of this is the dramatic change in customer behavior on the J.Crew website after Michelle Obama wore a J.Crew outfit on the Tonight Show, again when the Obama daughters wore the same brand at the inauguration, and yet again when Mrs. Obama wore J.Crew for a meeting with the UK's Prime Minister. Companies can take advantage of these rapid changes in customer behavior by spotting and analyzing these fleeting trends quickly.
"Amazon EC2's ad hoc query environment allows companies to ask behavioural-based questions of the data and gives them the opportunity to act on it immediately," says Kelly. "It replaces costly, time-wasting processing and does so at a price that makes it accessible to smaller companies."
The Quantivo-Amazon EC2 combination enables truly affordable advanced analytics. Quantivo customers will be able to act on the latest customer behavioural patterns for as little as $5,000 per month and clients are billed based only on what they use.
There are three solutions available:
Get: looks at not just eyeballs, but conversions
Keep: Turn visitors into loyal, repeat customers
Grow: When they come back, track patterns that show attributes that help you see what people are buying, when they are buying it and how
Amazon EC2 is available across North America.