July 21, 2009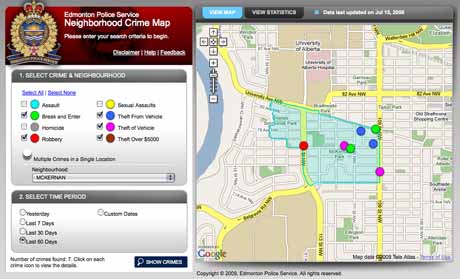 Crime-mapping website goes live in Edmonton
Online tool helps residents be proactive
Edmonton police have set up a crime-mapping website that will profile every neighbourhood in the city and track the different crimes in each. The idea is that people can go online and click on their own neighbourhood to find out about emerging crime patterns such as vehicle theft or break-ins, Edmonton city councillor Amarjeet Sohi said last week.
" [You] select your neighbourhood, the stars will pop up saying you know you had so many incidents of assault, you had so many incidents of vehicle theft .… you can start pinpointing some of the locations to where those incidents are happening," he said. "The hope is to have community members work together to be on the look out for crime."
"This is one of those tools that community organizations and individuals can use to be proactive in stopping the victimization," said Sohi. "For example, if you have a vehicle theft problem in your neighbourhood, then you can take certain steps to secure your vehicle," he said.
Similar crime mapping tools are already being used in Calgary and Ottawa.
The website is to be officially unveiled at a police commission meeting this Thursday evening.