July 21, 2009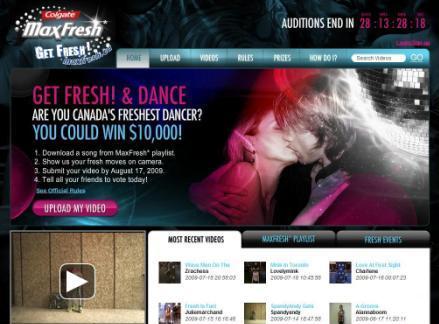 Canadians Get Fresh! with online video contest
User generated content promotes Colgate brand
Colgate MaxFresh is searching for the coolest, most exciting dancers this summer through the GET FRESH! & Dance contest being held online at getfreshanddance.ca.
Users are invited to visit the site before August 17 and click through to the upload section. They can then download one of the songs from the MaxFresh playlist and create a 30 second dance video to it. Canadians will cast their votes based on overall performance, creativity and originality, enthusiasm and technique. Ultimately, five dance finalists will be chosen and brought to Toronto in September to compete for $10,000 in the ultimate dance-off as judged by a panel of top dance aficionados including Canadian recording artist, Shawn Desman.
"With new styles breaking by the minute, dance is so popular that we can't take our eyes off the cool new moves Those fresh, fun steps are why e're searching for Canada's Freshest Dancer,"says Andrea Nickel, Brand anager, Colgate MaxFresh. "Canadians love to dance - here's their chance to show Canada their best moves."
Contestants can enter up to six dance videos per week. They can earn votes by spreading the word about their entry to friends. Just for voting on the fresh moves, friends can win too. Voters are entered into the draw for a chance to win one of five iPod Nanos.