July 14, 2009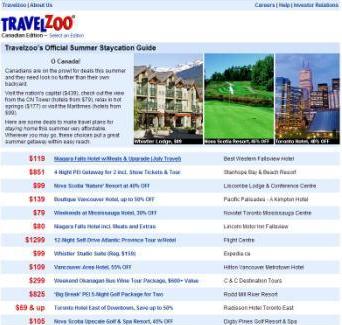 Travelzoo Canada gaining traction in Canadian market
Good search results key to online success
The holiday season is in full swing but with everyone watching their dollars, travel agencies are having to work harder than ever to attract business. For Travelzoo Canada, that means making smart use of their marketing dollars and making sure that their website appears in travellers' search results.
"Most of our marketing budget is online," says Mandy Gresh, Country Manager for Travelzoo Canada. "We use banners and boxes and make sure to show a couple of really good deals as well as our logo."
Travelzoo, a publisher of travel deals with over 15 million subscribers worldwide, began in the U.S. in 1998. They quickly realized that Canada needed its own 'local experts' and in April 2006, Travelzoo Canada was launched. The site currently has about 800,000 subscribers in Canada.
"Travelzoo Canada spread like wildfire," says Gresh. "And a big part of that is that we've earned our subscribers' trust by only offering legitimate deals. Canadians are more leary of booking online so this was key."
A huge part of being online is putting yourself in your customer's shoes, says Gresh, and to lead them to a place that matches up with your message.
Travelzoo Canada also uses social media tools to build their subscriber base. They currently have over 5,000 Twitter followers that log on every day to check out the newest deals, travel advice and vacation hotspots. The site also has a Facebook fanpage.
"Social media is an important part of our overall campaign," says Gresh, "but you can't put all your eggs in one basket. We have to pay attention to how the travel market is changing and how Canadians are shopping for travel and make sure to address those changes in our campaigns."
To address the struggling economy, Travelzoo Canada is releasing a list of exceptional deals for travel within Canada. Available online and updated weekly at www.travelzoo.ca/summer/, Travelzoo Canada's Summer Staycation Guide gives Canadians and those looking to travel to Canada this summer access to deals and discounts that can fit even the tightest travel budgets.