January 19 , 2010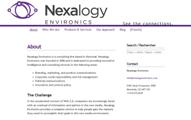 Nexalogy Environics launched
to make sense of social commentary
Exvisu and Environics partner up to provide social media insight and analysis
One of North America's pioneering social media analysis companies, Exvisu, is joining the Environics family of companies to create Nexalogy Environics Inc. The founders and partners of Exvisu will be continuing in the new firm.
"Our newest member of the Environics family brings exciting new skills and insight to ensure we can provide clients with a 360 degree perspective on consumer attitudes and behaviour," said Michael Adams, President of the Environics Group of Companies. "Just like our research business, the cornerstone of the Nexalogy Environics approach to intelligence is data and analysis."
"The information, insight, and recommendations we provide are the highest-quality social media intelligence available on the market today," said Claude Théoret, President of Nexalogy Environics. "We combine advanced data mining techniques with rigorous human analysis that help clients make sense of the data and what to do next. The result is that clients are able to make better, more informed decisions."
Nexalogy Environics filters through the clutter of the social media environment to identify the most important signals – key actors, issues, trends, and ideas – that have an impact on a client and its activities. The analysis is used by companies in issues and reputation management, product marketing, recruiting, brand management, lead generation, competitive landscapes and a wide range of communications and marketing activities.
"Engaging consumers through social media channels is important but smart clients know they need better intelligence to understand how the opinions, networks, trends, stakeholders and voices affect a brand," said Bruce MacLellan, President of Environics Communications. "We bring the research and analysis needed to guide communications so that we are targeted and effective."
"Our latest research tells us that almost one-third of Canadians are reading a blog at least weekly, making it an important area for marketers to understand, " said Barry Watson, President of Environics Research. "Together with traditional market research, we can now offer clients a more complete picture of the consumer opinions they need to hear."