January 12 , 2010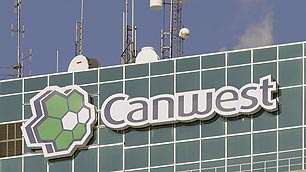 Photo by John Woods/Canadian Press
Canwest puts newspapers and online properties up for sale, proceeds with CCAA filing
"Business as usual" during restructuring process, lawyer says
Canwest Global Communications is putting its newspaper and related online operations under bankruptcy protection while seeking a buyer for its assets.
A statement released Friday by McMillan LLP, counsel to the agent bank for Canwest LP's senior secured lenders, says that Canwest Ltd. Partnership, the newspaper-publishing unit of Canwest Global Communications Corp., sought bankruptcy protection, joining its parent company that filed in October.
The Companies' Creditors Arrangement Act ("CCAA") filing includes all of the group's newspaper publishing, digital media, online and mobile operations. That includes titles such as the Ottawa Citizen, Calgary Herald and the Vancouver Sun. Canwest's specialty television channels are not affected.
The company said its creditors had agreed to take over the newspaper group unless a buyer comes forward with a better offer. The company also stated that it had arranged $25 million in debtor-in-possession ("DIP") financing from certain members of the senior secured lenders. Canwest has reportedly hired RBC Capital Markets to find buyers for its assets.
The partnership, which publishes 12 daily newspapers including the Vancouver Sun, Montreal Gazette and Ottawa Citizen, sought protection today in Ontario Superior Court to shield it from creditors and lawsuits as it attempts to refinance debt and restructure operations. The company had a net loss of $1.69 billion in fiscal 2009 as revenue dropped 8% to $2.87 billion.
"The company (and its units) believe that this is the best course of action because it will address the current debt level, preserve jobs and protect newspaper publishing brands that Canadians have come to know and trust over the past 100 years," the statement said.
According to John Clifford, a business law partner at McMillan LLP, Canwest's more than 80 online properties are being treated no differently than their printed counterparts.
"The CCAA filing affects all properties," says Clifford. "For the moment it is business as usual with the same management teams in place."
The court proceedings, says Clifford, could take anywhere from four to six months to be resolved. In the meantime, Canwest LP will maintain an operating cash flow sufficient to fund ongoing operations.