February 23 , 2010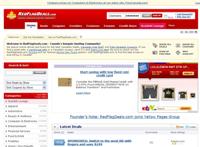 Yellow Pages Group acquires RedFlagDeals.com and 411.ca brand
The momentum continues at Yellow Pages Group with two exciting new acquisitions today.
Yellow Pages Group has acquired RedFlagDeals.com, the largest Canadian aggregator of discounts and coupons on the web and mobile. The company has also purchased the 411.ca brand and domain name, and the acquisition of an equity interest in 411 Local Search Corp. These acquisitions reinforce YPG's commitment to help consumers make smarter buying decisions and attract more leads to Canadian businesses.
RedFlagDeals.com
Yellow Pages Group (YPG) announced yesterday that it has completed the acquisition of Clear Sky Media Inc., owner of RedFlagDeals.com, a leader in providing online promotions and shopping tools to Canadians. With 2.2 million unique visitors every month 1, RedFlagDeals.com attracts an engaged community of savvy shoppers.
The acquisition includes three destinations that serve Canadians nationally:
RedFlagDeals.com, the largest aggregator of discounts and coupons on the web and mobile with hundreds of new deals posted every week.

PriceCanada.com, a price comparison engine, allowing users to search dozens of online retailers, compare product features and make informed purchases.

Scarlett Lounge, the leading source for deals in fashion and beauty for women.
"The Yellow Pages Group network of properties continues to grow and expand," said Stephane Marceau, Chief Marketing Officer, Yellow Pages Group. "With RedFlagDeals.com, we will further help Canadians in making smart purchasing decisions, in finding the best merchants, the best deals and in reaping savings. It is equally great news for YPG advertisers who will soon have a simple yet powerful way to promote their offerings to existing and new customers. Conducting targeted online and mobile coupon campaigns is about to become easy for advertisers of all sizes."
Online coupons and deals are capturing an increasingly important share of consumer-related traffic. Not only are users looking for deals online, retailers are increasingly using the Internet as a distribution channel for their sale items. With this deal, YPG is tapping into this market with websites that have established traction in the marketplace, loyal communities, and promotional content to build on. It also offers YPG additional growth potential on mobile devices with an iPhone™ app already available for coupon clipping and price comparison.
"We are absolutely thrilled to join Yellow Pages Group," said Derek Szeto, President and Founder, Clear Sky Media. "In joining one of Canada's leading online media companies, we will now be able to bring even more deals, more coupons and more savings to our growing community of Internet and mobile consumers. We will also be able to offer YPG's vast customer base of approximately 385,000 advertisers easy access to our deals and coupon distribution outlets."
411.ca
Yellow Pages Group (YPG) and 411 Local Search Corp., operator of 411.ca, also announced yesterday that they have signed an agreement under which terms YPG will purchase the 411.ca brand and domain names and acquire an ownership interest in 411 Local Search Corp. The agreement will further enable both companies to leverage the online traffic between YPG's leading Canada411.ca™ and YellowPages.ca™ properties, and 411.ca, a fast-growing online directory. This agreement that unites two of Canada's largest local search engines will provide enhanced online reach for advertisers and a greater experience for users.
"We are continuing to expand our reach, making it simple and easy for businesses to attract customers locally through our continually growing network of properties," said Stephane Marceau, Chief Marketing Officer at Yellow Pages Group. "With the acquisition of the 411.ca trademark, we gain a top-of-mind brand, reinforcing our leadership position as the destinations where people go to find the businesses, products, people and places that they are looking for."
411.ca has grown to attract close to 10% of online users, generating 13 million queries for local Canadian businesses each month. The addition of the 411.ca site will add approximately one million unduplicated unique visitors to YPG's network reach.
"We are very excited to establish this relationship with Yellow Pages Group," said Stephen K. Curry, President and Chief Executive Officer at 411 Local Search Corp. "Canadian businesses want results from their advertising programs that have a measureable impact on their bottom line. This deal will allow us to develop new programs and tools that will help 411.ca advertisers attract even more clientele."
Under the agreement, 411 Local Search Corp. will have an exclusive license to use the 411.ca trademark until YPG purchases the balance of outstanding shares in the company within approximately three to five years. YPG intends to close this transaction in early March 2010, subject to certain conditions, including the approval by 411 Local Search Corp. shareholders. Alexander Capital Group acted as exclusive financial advisor to YPG on this transaction.