December 15 , 2009
Canadians are hunting for grey suede boots
Terms ranked among fastest moving search terms
According to Heather Hopkins of Hitwise, the search term "grey suede boots" was a Fast Moving Search Term last week in Canada among search terms sending visits to Shopping and Classifieds websites. The term appeared #2 on the Fast Moving Search Terms report and is a good example of an opportunity for Canadian retailers.
The following table shows the top 20 search terms among the 1,691 search terms that contained the word "boots" in the twelve weeks to November 21, 2009. The search term "grey suede boots" appears #15.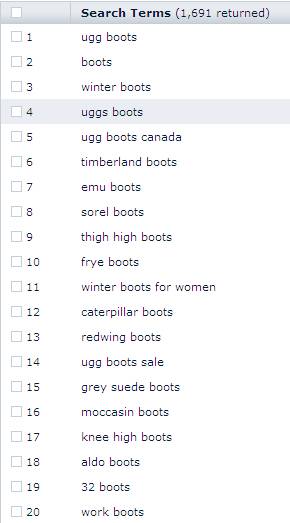 Experian Hitwise reports a metric called "Success Rate" which is a measure of how many searchers clicked off of the search engine after performing a search. The term "grey suede boots", has only a 54 per cent Success Rate, meaning that nearly half of searchers were forced to repeat their search in order to find relevant information. Similarly, "moccasin boots" experienced only a 58 per cent Success Rate. Compare this to the #'1 term, "ugg boots" with an 88 per cent Success Rate.
For the high volume terms, Canadian searchers seem to be finding what they are looking for, but for more specific terms, there are ripe opportunities for retailers to attract consumers to their websites through relevant ad copy. Fast moving search term reports and search term variation reports can be an excellent source of ideas for new search terms and can also provide ideas for ad copy.