August 11 , 2009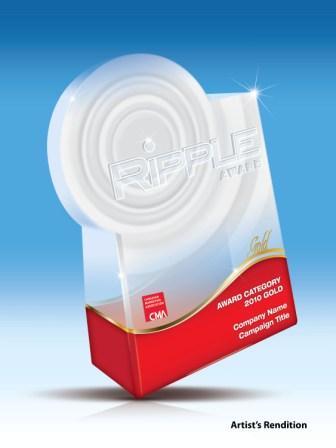 New look chosen for CMA Awards statue
Direct Antidote's Ripple concept named winner
The Canadian Marketing Association (CMA) announced today the winner of the CMA Award statue redesign contest – the Ripple Award submitted by Toronto-based customer loyalty agency Direct Antidote. More than 2,600 votes were cast by marketers across Canada in making the winning selection from among 26 entries.

The new award will debut November 27, 2009 at the annual CMA Awards Show and Gala, where it will be handed out to winners in various categories for marketing excellence and innovation.

"We challenged applicants to create a fresh concept for the award that would serve as the new, iconic representation of Canadian marketing excellence. The Ripple Award embodies everything that a CMA Award stands for: creativity, innovation and measurable results," said CMA president and CEO, John Gustavson.

Contest winner Direct Antidote is a full-service loyalty agency best known as the creative force behind the AIR MILES Rewards Program. Other Direct Antidote clients include Bank of Montreal, Sage Software, and Transat Distribution. The agency is also recognized by noted viral efforts such as the Antifruitcake holiday campaign and the recent charity-driven Extreme Wrapping Challenge.

"CMA is the most recognized association in our industry," remarked Direct Antidote President Di Cullen. "We're proud to have delivered a concept that was selected by our agency peers, marketers and CMA leadership. The Ripple Award represents those big ideas that send waves across all channels, influence change and reshape the industry."

The new look comes in addition to a complete refresher for Canada's largest annual marketing awards competition, which includes the addition of new categories and a revamped judging process.