April 28 , 2009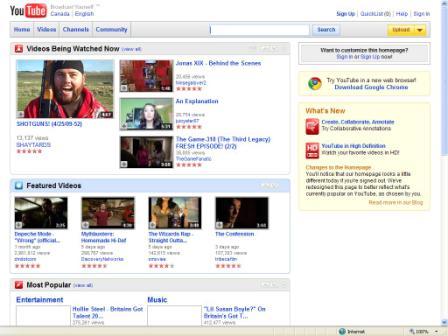 Online video provides brand-building vehicle for online advertisers
Canada ranks as global leader in online video viewing
With 21 million Canadians viewing more than 3.1 billion videos online during the month of February 2009, online video has become the ultimate on-demand opportunity for advertisers, according to Bryan Segal, vice president of sales for comScore Canada.
"Canada's high broadband penetration and tech savvy internet users make it an optimal environment for online video to flourish," says Segal. "The combined forces of reach, high engagement and 'sight, sound and motion' make online video a particularly attractive brand-building vehicle for online advertisers."
Results from last week's comScore Video Metrix data showed that more Canadians than ever before are logging on to watch videos online.
"It's the viral aspect of it that makes online video so popular," says Segal. "Especially when it is user generated content. Then it becomes an extension of people's communications skills that allows them to see what everyone else is seeing."
Nearly 88 per cent of the total Canadian web population viewed online video in February - the highest penetration of the five countries currently reported by comScore Video Metrix. France and Germany tied for second place at 82 per cent, followed by the United Kingdom with 81 per cent and the United States with 76 per cent.
"We're a leisure, news and information society," says Segal, who also notes that Canada ranks high in terms of overall internet usage. "Make no mistake, Canadians are watching."
Segal feels that advertisers need to use this popularity of online video to leverage a larger audience and provide an interactive experience for their target market.
"Advertisers really should be taking advantage of such a great ad vehicle," he says. "There are options like overlaying ads on the video or providing click though options."
He uses an example of watching a video of Jennifer Aniston and liking the sweater she is wearing. A savvy advertiser would have a click through to an ad showing where the consumer can buy that sweater.
"These are amazing advertising options that can't be done in any other ad medium."