April 28 , 2009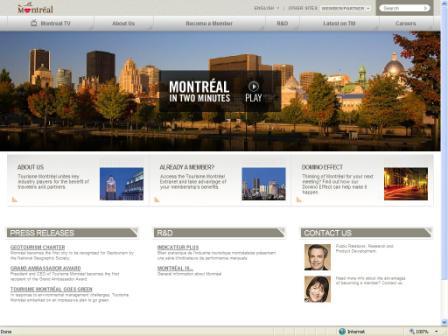 Tourisme Montreal shifts to 100% web-based advertising
Campaign maximizes ad investment
In response to changing consumer consumption trends, Tourisme Montreal has launched an entirely web-based promotional offensive to reach leisure markets and ensure enhanced influence for Montreal in travel and tourism circles.
The aim of the new campaign is threefold and includes enhancing Montreal's notoriety as an urban destination ideal for short-term getaways, to persuade consumers to visit Montreal by showcasing price promotions, and to assist potential visitors in planning their Montreal vacation.
The new web-based format allows Tourisme Montreal to achieve each of these three goals through banners present on travel and lifestyle sites and a Web 2.0 strategy, which features five Montreal "insiders" whose mission it is to portray their individual passions for arts and culture, epicurean life, gay life, nightlife and girls' getaways. The campaign is aimed specifically at the Ontario and U.S. leisure markets.
"Given challenging economic conditions worldwide, we, like many other organizations, have had to revisit our budget and cut back on various expenses, including those relating to print campaigns," stated Charles Lapointe, president and CEO of Tourisme Montréal. "However, our repositioning is also rooted in changing consumer trends. Indeed, travellers today are increasingly inclined to select their future travel destination on the web as they are able to preview what they are likely to encounter upon arrival."
"By relying on the latest technology and shifting to 100 per cent web-based advertising, Tourisme Montréal can, as opposed to more traditional style advertising, accurately assess campaign impact with target audiences and maximize investments in this regard," Lapointe went on to explain.