April 21 , 2009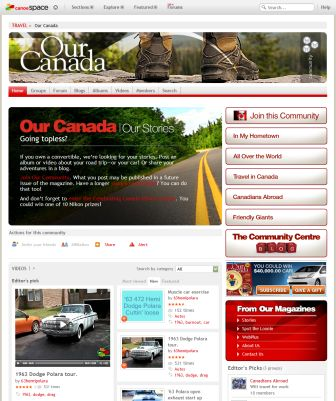 OurCanada.ca is part of a recession plan that includes increasing online brands
Recession plan keeps Reader's Digest Canada in expansion mode
Offering multi-channel ad packages key to growth strategy at Canadian publisher
By Amy Bostock, Editor
While many publishers, both print and digital are feeling the crunch of the economic crisis, Reader's Digest Canada has implemented a "recession plan" that has seen the company grow its brand across multiple channels.
"Reader's Digest Canada is in expansion mode and we're continuing to launch new products," says Yann Paquet, Director of Digital Media for Reader's Digest Canada. "The market is tough right now but we're doing well."
"Doing well" may be an understatement, with comScore numbers showing an 18 per cent increase in unique visitors to sites across the Reader's Digest digital network. In fact, their newest site, OurCanada.ca (a partnership with Canoe.ca) is currently the 6th largest subscription-based site in Canada.
"The site is 90 to 95 per cent user generated content, which is one of the main reasons for its success," says Paquet, who points out that people like to read their own stories and see their own photographs online. "It brings the user into the fold and makes them feel like they are a part of the news."
Launching new online brands like OurCanada.ca is part of Reader's Digest Canada's strategy to invest and grow their operations across all channels.
"The internet has really transformed publications into multi-platform brands that allow us to engage consumers," says Paquet. "Online and print together have been a good fit for us."
Reader's Digest Canada has also been launching pure online brands like allrecipes.com, which showed a viewership increase of almost 20 per cent in the last year.
The numbers are attracting the attention of advertisers as well, with more and more companies turning to online campaigns that are measurable and accountable.
"Companies are looking for multi-channel buys which is why it's so important for [Reader's Digest Canada] to be in all channels," says Paquet. "That is the key to our strategy."
Their ability to offer an online component to their advertisers has caused Reader's Digest Canada to grow their online revenue quickly over the last year.
"It shows that the strategy is working," says Paquet.
The next step in their strategy involves leveraging the fact that Reader's Digest is a global company into the creation of a global platform.
"That will be the next big step that will put us in the driver's seat of publisher websites.