April 14, 2009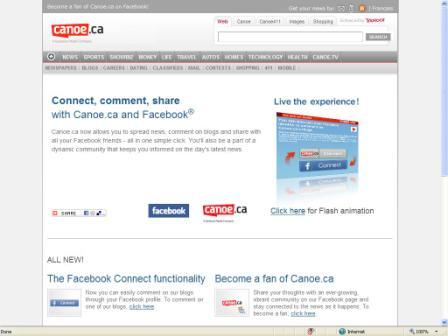 Canoe.ca develops new social media strategy
Media outlet enhances users' networking experience though Facebook
Canoe.ca newest social networking initiative has made them the first Canadian media outlet to allow its users to better interact, comment and share information by integrating Facebook Connect.
Canoe.ca will enrich the social networking experience of its audience by making the Canoe.ca fan pages available on Facebook.
"Moving forward with our social media strategy, what we want is to open up our platforms and give more tools to our audience," says Bruno Leclaire, President of Canoe.ca. "With Web 2.0, the user becomes a content creator who interacts with his or her own social network and this allows us to extend our content offering into their trusted communities."
Using their Facebook Login through Facebook Connect, members can now sign in to a variety of Canoe.ca blogs where they can comment or share their thoughts with all of their Facebook friends.
"Through these initiatives, Canoe.ca stays true to its dynamic and interactive nature and shows that it is sensitive to its users' needs," says Simon Rivard, VP of Marketing at Canoe.ca. "The Canoe.ca fan page on Facebook allows users to become fans and stay in touch with breaking news and special coverage within Facebook."